We Are The Radical Monarchs
Austrian premiere!
US, 2019, 96 min,, English OV
Regie: Linda Goldstein Knowlton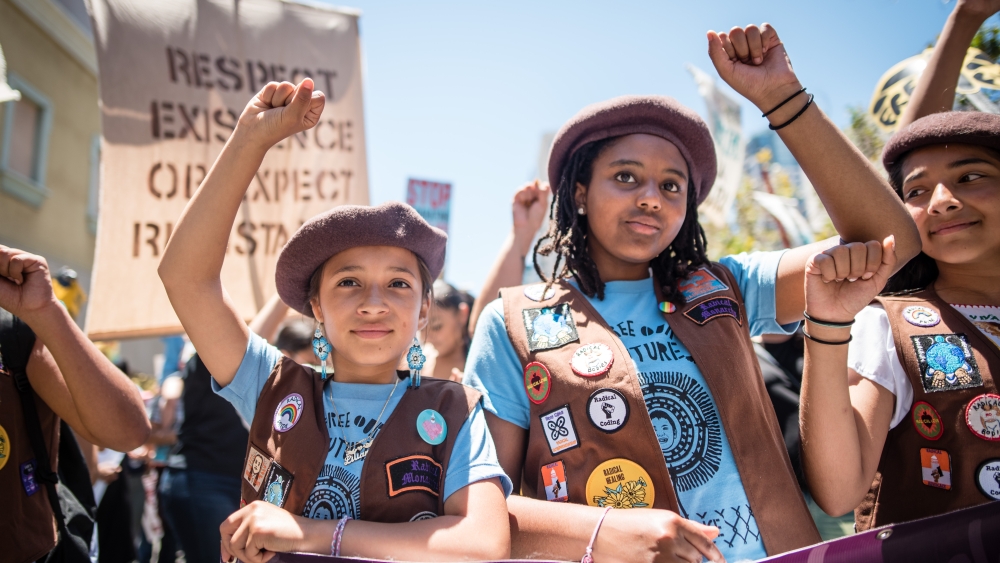 A group of girls chant into megaphones at the San Francisco Trans March. Holding clenched fists high, they wear brown berets and vests showcasing colorful badges like "Radical Beauty" and "Black Lives Matter". Meet the Radical Monarchs, a group of young girls of color at the front lines of social justice.
Set in Oakland, a city with a deep history of social justice movements, Emmy nominee Linda Goldstein Knowlton´s powerful film documents the Radical Monarchs - an alternative to the Scout movement for girls of color, aged 8-13. Its members earn badges for completing units on social justice including being an LGBTIQ* ally, the environment, and disability justice.
The group was started by two, fierce, queer women of color, Anayvette Martinez and Marilyn Hollinquest as a way to address and center her daughter's experience as a young brown girl. Their work is anchored in the belief that adolescent girls of color need dedicated spaces and that the foundation for this innovative work must also be rooted in fierce inter-dependent sisterhood, self-love, and hope.
Linda follows the first Monarchs troop for over three years and documents the founders struggle to respond to the needs of communities across the US and grow the organization after the viral explosion of interest in the troop's mission to create and inspire a new generation of social justice activists.
"Wow! We Are the Radical Monarchs pushes ALL of us to see a world of radical possibilities for liberation through the eyes and coming-of-age stories of Black and Latinx girls. The film reveals that young girls can and do challenge the politics of the 21st century by building on the legacies of 1960s and 1970s liberation movements while finding their own voices and building their own legacies." - Dara Walker
"Honest and hopeful...Viewers get to see what empowered girlhood - centered in intersectionality, inclusivity and strength - looks like in action." - Forbes
"If you're looking for signs of hope and are struggling to believe real, lasting change is possible, you will find it in this joyful, powerful, uplifting documentary." - Lyn Mikel Brown